And we're back! This week, we feature Anel I. Flores, author of Empanada: A Lesbiana Story en Probaditas, and local community organizer in San Antonio, Tejas. She's shared with us her art, in the form of spoken poetry at a local fundraiser and as a donation to our online art auction held last year—and overall shared some of her awesomeness with us through constant support, and a personal connection with Third Woman authors and words. Check her out below!
---
Third Woman Press Collective (TWPC): Hey, Anel! We're so excited to be chatting with you today, thanks for taking time out for us. Let's start with where your geographic location is?

Anel Flores (AF): It's hard to put a concrete label on my geographic location because I spend most hours in my white desk chair writing, physically a little less than 3 miles from the Yanaguana river (what we know as the European-named San Antonio River) and a little less than 300 miles from the Rio Bravo, yet my mind and hands unravel my stories up and down highway 77 jumping in and out of both rivers.
If I was filling out a survey and there were boxes to check, I might fill the box beside  "San Antonio" but I'd also fill in the box beside "Other" and write on the line, "Brownsville," where I was born.


TWPC: We like that. You're always where you've been; it's a part of you. So Anel, what keeps you busy?

AF: I'm kinda addicted to busy, but agreed last year not to ever become the "I'm-so-busy" person. You know her. She's the one you run into at the store and before you can say hi or share a bit about your life, she says, "I've been sooooooo busy!" [TWP Collective cracks up and gives each other the side-eye.]
I am super active and owe that to not being medicated for my ADD as a child. My medication became making things, learning new things and researching non-stop! If I'm not working on my second novel, Cortinas de Lluvia, I'm out eating Thai food with my lovely daughters, getting a chango or fruit cup at Woodlawn lake, meditating for rain, working with our amazing San Antonio LGBT community, serving on the board of San Antonio Youth Literacy, washing dishes, making coffee and drinking some good red wine with mi hermosa, soon-to-be wife, Erika. Oh, and when I'm not doing all those things, I run my own real estate company called A&N Realty!


TWPC: You certainly are involved! We're excited about your new book! And congratulations to you and Erika, muxer. With all these wonderful things going on, what influenced your decision to help fundraise for Third Woman Press?

AF: In 1992, I plunged myself into all books Latina, Chicana, feminist and finally lesbian. This is when I found Gloria Anzaldúa and Cherríe Moraga's anthology, This Bridge Called My Back: Writings by Radical Women of Color. I was sixteen, in love with a best girlfriend, had a boyfriend, attending an almost-all-white high school and walking around in navy blue Doc Martins and a backwards black, wool cap. I was a mess, to say the least, but a fun and liberating mess!
This Bridge's authors weren't afraid to tell all the secrets that were trying to break out of my body. Each page of her thick body freed me just a little bit more and just a little bit more. Of course, this book introduced me to more Third Woman authors who continued to break down the hetero trappings I didn't even know I was shackled to. I very soon fell in love with Sandra Cisneros, la Lorna Dee Cervantes, Joy Harjo, Pat Mora, Barbara Smith, and the amazing Audre Lorde—all Third Woman authors.
I am the writer I am today because Norma Alarcón took the words of these women and many others in her hands, dressed them up in a little case, let us take them sensuously into our bedrooms under low light and let us learn a trick or ten about embracing our true intimate.


TWPC: Beautifully said, Anel. We're so glad you—like so many of us—and countless people from all around, were able to find yourself in pages written by Third Woman authors. It's an amazing thing. Thank you so much for helping! What was your favorite detail, performance, interaction, etc., from the San Antonio fundraiser?

AF: My favorite moment was walking into the fundraiser and seeing Norma and Sandra cuddling in the back of the bar in a booth, two women who make me want to run and scream into the streets in childish glee. It's like the feeling I used to get when 'buela gave me a dollar for the ice cream lady! Their smiles were electric, chill and so telling. They were relaxing, looking out into the voices of us who all honor and admire them. It was an amazing moment. Sometimes, I really have to stop and remind myself that I am here, it is 2014 and my work is part of the Latina/Chicana/jota canon, because Third Woman gente have invited me, welcomed me, supported me, taught me and continue to push me to work harder!


TWPC: That, Anel, is called the "fangirl" status. We love it! It's so exciting to know that you can find such wonderful support from artists similar to you. Is there any specific area, field, or place that you feel really needs a feminist intervention right now?

AF: I see little to no sensual love between Lesbianas and transgender lovers in much literature. I want to see a feminist intervention in literature that isn't afraid to show love and sensuality—love that goes all the way, love that evokes the body in a metaphysical, physical, spiritual way, non-gendered way, love that screams, penetrates, orgasms and even sensual love that sleeps.
As far as Erotica goes there is a Best Lesbian Erotica for every year I have been alive, as there is one for Best Horror Erotica, Best Gay, Best Pillow Talk, etc. These are not the best, and they are not literary works in my opinion. Erotica is a genre, yes, but literary erotica by Latinas is not at all visible. In our Lesbiana literary community, many of us leave the characters either peering from afar at their desired love, coming close to kissing, dressing themselves in drag, or discussing the psychology of loss or past experiences forcing them toward lesbian desire. The writers are out there and they are writing the stories, but our publishers aren't publishing them! Korima an Evelyn Street Press gave Empanada the space she needed to get sexy! (And, I plan to be even braver in Cortinas de Lluvia. My writing comes so much more freely, knowing TWP, Korima and Evelyn are publishing fierce literature! (Pun intended!)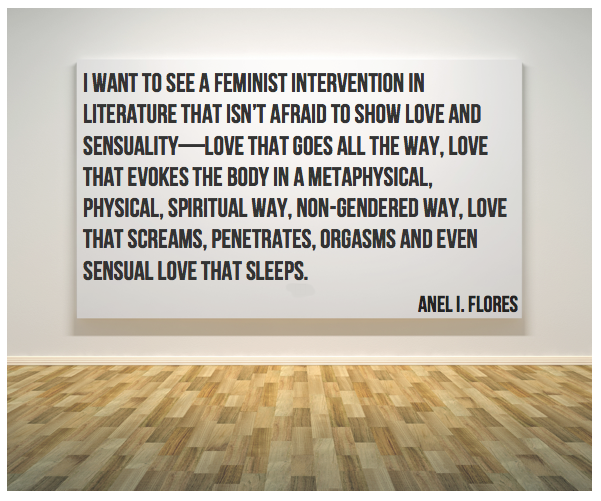 TWPC: There are so many different kinds of love, we absolutely agree that it needs to be shown for what it is, regardless of "how" it's done. We'd love to see more of the beautiful acts of love, especially by people who often don't find themselves represented in literature, as you've said. Again, we're super excited for your new book, muxer! What do you like to do for fun?

AF: For fun I read first lines of paragraphs randomly in my favorite novels and collections, and I eat yummmmmmmmy food with lots of chile.


TWPC: Love it! Chile and fruit together are almost their own food group. Are there any activities you do specifically to recharge after doing community organizing?

AF: To recharge I like to drive the streets of San Antonio neighborhoods. If I have a few days, my family and I take off to the Arroyo City where we stay close to the Laguna Atascosa, watching brown pelicans soar over the water, eating pan dulce from the Ornelas Panaderia in Rio Hondo, the neighboring town. And when I need a real recharge, I like to take long walks through South Texas towns on very hot days. The heat really opens up all my senses and opens me up, back onto the page.


TWPC: That sounds very relaxing. Since you helped TWP raise money, what is one thing that excites you about the revitalization or what would you like to see TWP do overall?


AF: Keep sharing the stories, TWP! Keep the word accessible, true and real. TWP, give new voices a place to soar! You birthed the greatest authors in your first life! Do it again!


TWPC: Will do, Anel. Will do. Accessibility is key, and we're working on that. Thank you so much again!


---
We'd like to send out lots of good writing vibes to Anel as she continues writing her second novel, Cortinas de Lluvia. For more information on her various happenings, check her out here. And of course, many many more thanks for this awesome muxer's help with the revitalization of Third Woman Press!


---